As you may know, I first came to the United States as a refugee from Vietnam before I was two years old. At the end of the Vietnam War, my parents refused to raise their family under oppression. We came to America because this country has always represented hope, opportunity, and freedom.
I still believe in these fundamental American ideals, and I know they are worth fighting for. That's why, after the 2016 election - with our fourth child due on the day of Donald Trump's inauguration - my husband Matt and I chose a name for her that would reflect our values. We named her Elise Minh Khanh. "Elise" for Ellis Island, a beacon of hope for generations that Matt's family passed through as they were escaping anti-Semitism at the turn of the century. "Minh Khanh" is Vietnamese for "bright bell," inspired by the Liberty Bell. To us, her name means "to ring the bells of liberty and champion opportunity for all."
I made the decision to run when Elise was a month old. I had just given such an aspirational name to this tiny baby, and I knew that I couldn't stand by while the values that inspired her name, and that my parents had risked everything for, were under threat. I knew that I had to step up and fight for them right now.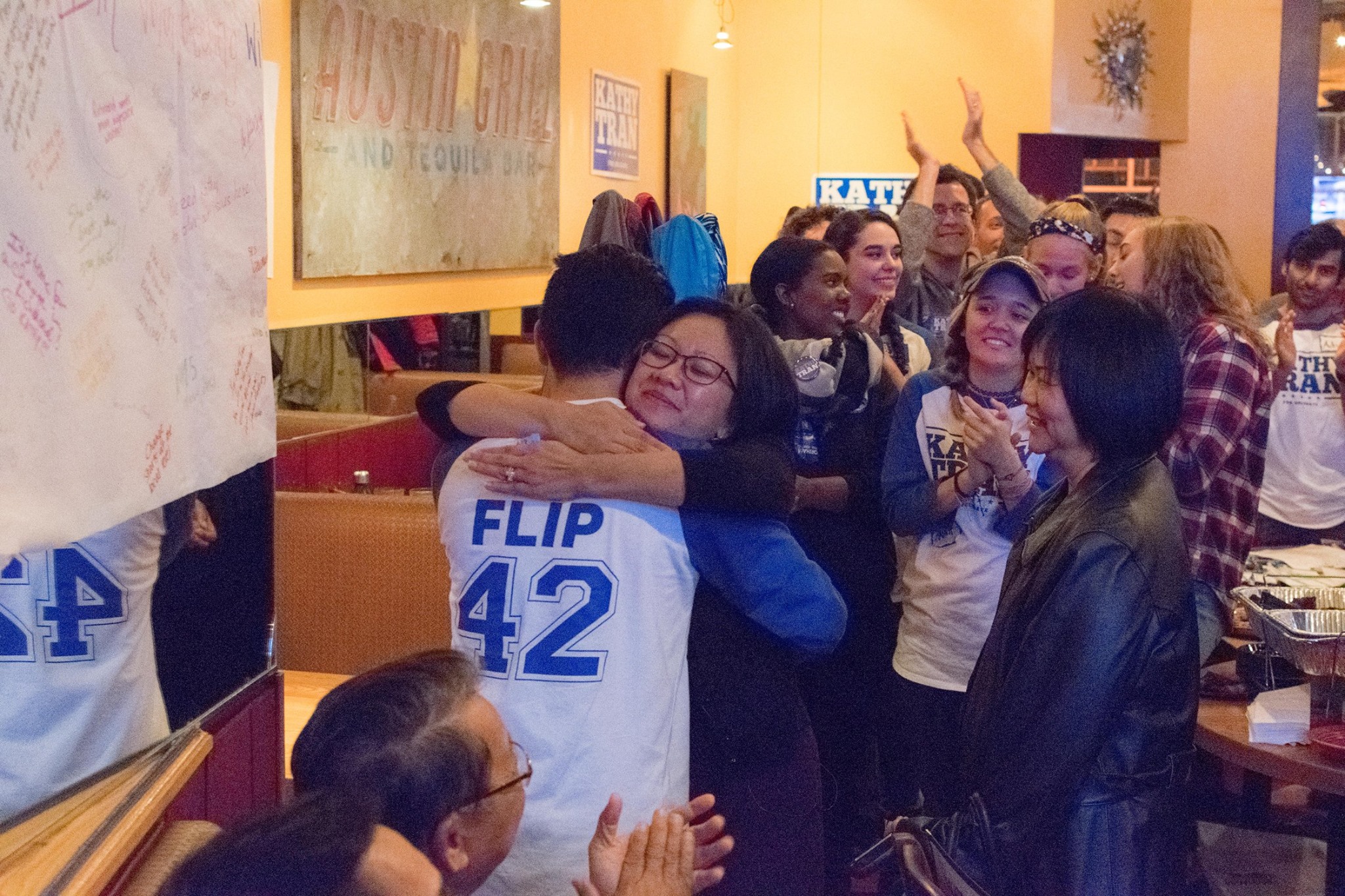 "Hope, opportunity, and freedom for all are at the heart of our democracy. These are American values and they will prevail."
I ran for the Virginia House of Delegates in part as a rejection of what was happening in Washington and across this country. I know many of you felt that anger and sorrow as well. But on Tuesday, our victory in the 42nd District, and in elections across Virginia and the nation, showed that Americans are not only rejecting racism, misogyny, xenophobia, and hate, but also that we are absolutely affirming that hope, opportunity, and freedom for all are at the heart of our democracy. These are American values and they will prevail.
We also affirmed on Tuesday that we need strong communities where everyone can thrive. That starts with funding for our public schools so that every child has access to a world-class education. It means growing our economy and leaving nobody behind. It means standing up for our veterans and military families by ensuring they have the resources they need to succeed in the civilian workforce. It means expanding access to affordable healthcare, including trusting women to make their own healthcare decisions. It means finally making progress on preventing gun violence. It means nurturing and protecting our environment. And it means our communities, Commonwealth, and country are welcoming and inclusive of everyone.
I am so proud to be the first Vietnamese American elected to Virginia state government, and to join Delegate-elect Kelly Fowler in the 21st District as the first two Asian American women elected to Virginia state government. It's high time that our government reflects the diversity of our communities.
On Tuesday, together we rang the bells of liberty loud enough to be heard across the country. I thank you from the bottom of my heart for giving so much to this campaign, from door knocking, to phone banking, to writing postcards, to donating generously. In Richmond, I look forward to defending the values that we fought for together and fighting for the brightest future possible for everyone in the 42nd District.
Thank you so much,
Kathy
P.S. -- Many of you have already given so much to help us come this far. But we are still fighting in three Virginia House races for every vote to be counted. We're only two seats away from winning back Democratic control of the House of Delegates. Please consider chipping in $42 or whatever you can to help us fund the Virginia House Democratic Caucus' recount efforts: https://secure.actblue.com/donate/recount17?refcode=tran